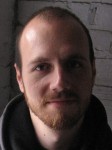 I'm Jorge Aranda, and I work at Limbic Consulting a company that does really cool stuff with real-time interactive media controls.
Before my latest incarnation, I was a Postdoctoral Researcher at the Department of Computer Science of the University of Victoria. I did my PhD at the University of Toronto, studying coordination and communication in software organizations. Steve Easterbrook was my advisor.
I'm originally Mexican, and a naturalized Canadian. I like books, board games, vegetable gardening, movies, cooking, jogging, and juggling. I live in Victoria, B.C., Canada, with my partner Val, our kids, Aurora and Xavi, and our cat, Mushi.
You can reach me at jorge.aranda (AT) cuevano.ca. Here is my resume. You can also find me at my other homes on the web: